Angela has written Three books:
Homeward
Miss Fitzgerald, in San Diego
Author Biography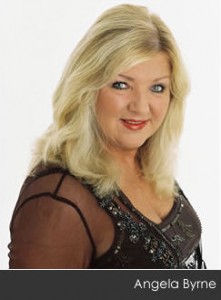 Angela Byrne grew up in the heart of rural Ireland, one of a family of five. Her role as the middle child was to learn from her elders, and teach the younger children how to behave. On leaving secondary school after the Intermediate Certificate, Angela went straight to work.
By the age of eighteen, she was managing eight employees. At twenty-two she married John. The couple rented out their small farm in rural Kilkenny, and John worked in a local brewery while Angela raised their four children.
On selling the farm, Angela and John moved to Kilkenny City, where they opened a Bed and Breakfast, run as "Celtic House Bed and Breakfast". Their hospitality business is one of the city's most popular, and the Lonely Planet guide has designated Angela, "Ireland's goodwill ambassador to the world."
Angela is an accomplished painter, whose work adorns the walls of her own home and business, and appears in private collections around the world. She is also keenly interested in acting, and has attended the Margie Haber cold acting course in Hollywood and worked with RTE, Ireland's national television station, on Crimecall.
Angela has appeared on the Late Late Show, Ireland's most popular primetime talk show, and has been featured on television show How Long Will You Live? and on four different occasions on Good Morning America USA. She is also an accredited Life and Business Coach.
Together with her husband John, Angela represented Ireland at the St. Patrick's Day parade in San Diego in 2007 and 2008.2009.The Mayor of San Diego Mr. Jerry Sanders has bestowed a great honor on Angela and her husband John, making them honoree citizenship of Southern California.
Not Forgotten is available directy from Angela.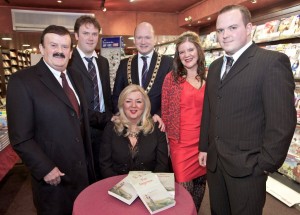 Launch of Angela Byrne's Book Not Forgotten
Pictured with Angela at the launch of Not Forgotten – Left to Right: Angela's Husband John Byrne, her son John-James, The Mayor of Kilkenny David Fitzgerald, her daughter Lisa and her son Declan.
Angela has been nominated for an 'American Writer's Award 2013' for  'Not Forgotten'.
For more information visit:
http://www.americawriters.com/featured/not-forgotten-by-angela-byrne.html